Want some hints...
Can you find Santa?
Check these participating locations and more!
Albritton Photography by Rhyan Emery
American Mattress Outlet
B & E Wholesale
Baskin Robbins -West Monroe
Battery Pros, LLC
BBQ West
Blue Line Boutique
Blush by Sadie C's
Cake
Cara's Boutique
Caster & Chicory
Chalk Board & Gifts
Cigar Experience-Cigar Shop
Cloud 9
Commerce Street Market
Cooper Vet West Monroe
Cotton Port Antique Mall
Downtown Nutrition
Duck Commander
Eleven 26 Boutique
Factory Connection
First Glimpse
Flying Heart Brewing & Pub
for His Temple Family Foods
Gator Girls Catering
Gentleman's Room WM
Goin' Postal, dba Just for Jada LLC
Heritage and Grace
Iron Cactus- Calhoun
J & H Boots & Jeans
JAC's Craft Smokehouse
Johnny's - Warren Dr
Johnny's -Jonesboro Rd
Johnny's- Arkansas Rd
Johnny's- Calhoun, LA
Just Peachy
Kayla's Kitchen
Lifestyle Nutrition
Little Blue Line
Luna Piena Italian Bistro
Marty & Mark's Watch Repair
McCallisters Thomas Road
Meraki Salon
Messy Armadillo
Monogramming Gypsy Boutique
Newk's West Monroe
Party Time West Monroe
Pelican State Clothing
Pizza Fest Apizzeria
Potpurri de Tante Marie
Ray's Tire Pros
Reflections Screen Printing & Embroidery
Sadie C's West Monroe
Scott's Catfish & Seafood
Sew Suzy
Shoppes on the Alley
Surge Entertainment Center
Sweet Loves
Texas Roadhouse
The Corner Coffeehouse
The Nude Nomad
The Perfect Find
The Rustique Gator
The Spice and Tea Exchange
Tool Town, LLC
TP Outdoors West Monroe, LLC
Trapp's
Treads Tires
Trinity Diamonds Direct
Underdogs Grill & Chill
Walk-On's Bistreaux & Bar
Walpole Tire & Service, LLC
Walsworth & Co
Welcome to the Holiday Shop West Santa Hunt!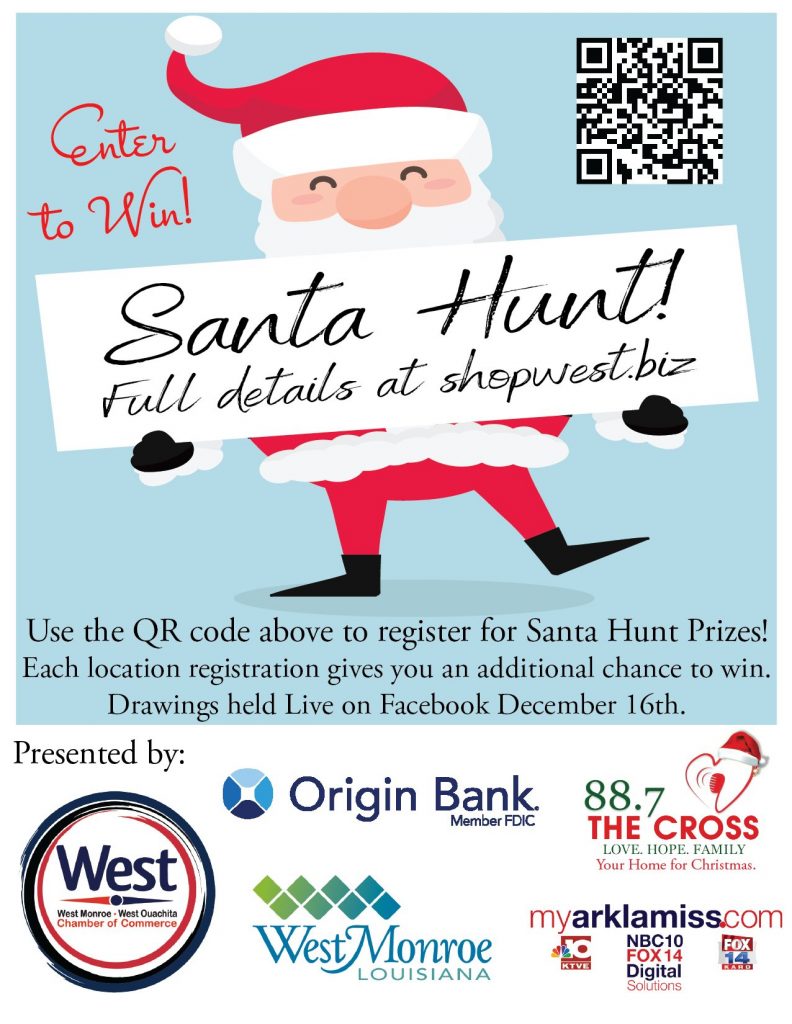 #ShopWest is a local campaign reminding us to shop local and keep those key sales tax dollars in our community. The West Monroe West Ouachita Chamber is proud to partner with the City of West Monroe and our awesome campaign sponsor Origin Bank to promote our local businesses throughout the year. This Holiday Season, support our community - Shop Local and Shop West!
No purchase necessary
How to enter: Find the Santa at each location (see image above for example) and tag the QR code with your smart device. Open, complete, and submit the simple registration form. Each registration counts as 1 entry per person only. Duplicate registrations per "location" will be removed.
Contest dates November – Dec 15th at midnight. Drawing – Dec 16th, 2021.
Random drawing for each prize will be done (Dec 16, 2021) on the West Monroe West Ouachita Facebook page and winners will be notified by phone, and email directly.
The locations are the sole discretion of each store participating.
User information including email address will not be used for any other purpose or promotion
Got questions? Email - info@westmonroechamber.org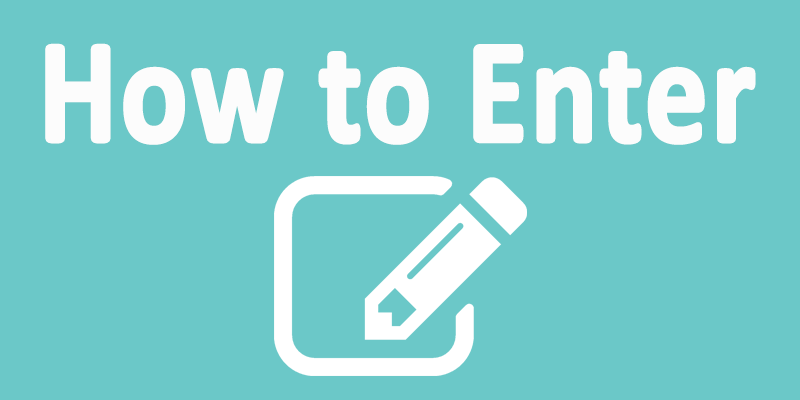 How to enter:
1- Find one the Santa images in one of the participating locations in West Monroe.
2- Use your smart phone camera app to focus on the QR code or a QR code reader app! Click the link to the registration page.
3- Complete the registration for each Santa you find for your entry chance. Only one chance to win per person per location. Redundant entries will be excluded from that location.
4- All entries will be pooled into the drawing! Happy Hunting!