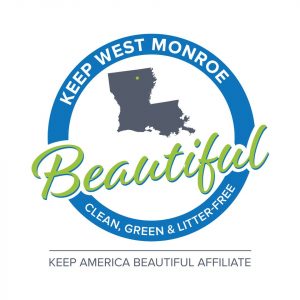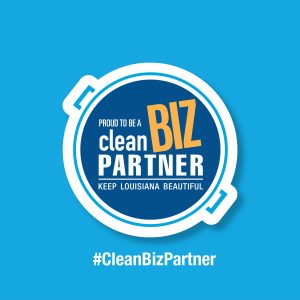 WMWO CHAMBER OF COMMERCE JOINS KEEP LOUISIANA BEAUTIFUL'S CLEAN BIZ PARTNERSHIP
West Monroe West Ouachita Chamber has joined the Clean BIZ Partnership, a new program created by Keep Louisiana Beautiful (KLB) aimed at reducing and preventing litter, and is asking area businesses to share in the responsibility of addressing the state's litter problem.
"The City of West Monroe is excited to partner with the West Monroe West Ouachita Chamber of Commerce to support the launch of the Clean Biz Program in West Monroe," said West Monroe Mayor Staci Mitchell. "Our business community plays a vital role in the economic health of our community, which includes its appearance. The Clean Biz Program ties perfectly with the City of West Monroe's public pride campaign 'Take West Monroe to the Next Level.' We look forward to working with the Chamber of Commerce and Keep Louisiana Beautiful to get our businesses on board."
KLB, in cooperation with the Louisiana Association of Chamber of Commerce Executives (LACCE), is asking Chambers across Louisiana to join the Clean BIZ Partnership and recruit businesses in their area to participate as a Clean BIZ Partner. As part of the new campaign, KLB is providing supplies, recognition and branded marketing toolkits to participating Chambers and enrolled businesses to display in their place of business. The program was created to address a recommendation made from the Litter Abatement and Beautification Task Force created by Governor Edwards and chaired by Lt. Governor Nungesser.
"A clean Louisiana is good for business — by doing our part and keeping our businesses litter free, we are giving a great first impression to customers and visitors while positively impacting our state's economic development efforts," said Kristopher Kelley, Executive Director of the WMWO Chamber "We are thrilled to support this program and encourage all our members to take a moment from their schedule to get involved."
According to KLB Executive Director Susan Russell, a recent litter public attitude survey conducted in Louisiana showed that 89% of those polled stated they believe litter negatively impacts businesses by decreasing revenues.
"Litter is a problem that affects the health and vitality of all communities in Louisiana," said Russell. "Street flooding, property values, tourism, our state's image, the environment and our businesses are all impacted by litter — it's a responsibility that must be shared by all of us, including the business community, to make meaningful change and keep our communities litter free."
Businesses can sign up to be a Clean BIZ Partner at bit.ly/CleanBIZPartnershipApplication. For more information about the program visit KeepLouisianaBeautiful.org/CleanBiz.