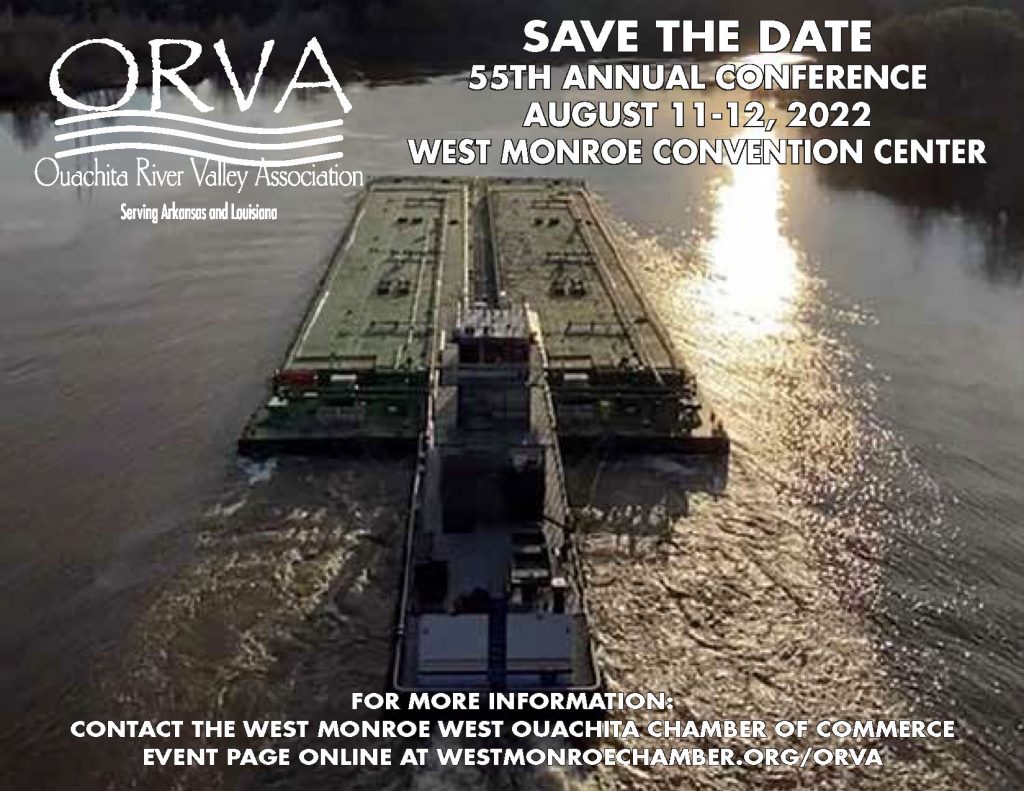 Registration is now open - ONLINE or call 318-325-1961 to be registered by phone!
Greetings:
I take this opportunity to invite you to the Ouachita River Valley Association's 55th Annual Conference which will be held August 11-12, 2022 at the West Monroe Convention Center in West Monroe, LA.
This year's conference promises to be a great event!  The conference is hosted by the City of West Monroe and supported by numerous sponsors.  We believe the theme "The Economic Impact of the Ouachita River" will be most interesting. The host hotel is the Hilton Garden Inn in West Monroe which has provided an attractive rate for our attendees.
Several keynote speakers will present their perspectives on the Ouachita River to include the impacts to the people within the Ouachita River Basin.  Our list of speakers currently includes
Billy Nungesser, Louisiana's 54th Lieutenant Governor, Dr. Mike Strain, Louisiana Commissioner of Agriculture and Forestry, Maj. Gen. Diana Holland, Commander, Mississippi Valley Division, U.S. Army Corps of Engineers, Colonel Chris Klein, Commander and District Engineer, Vicksburg District, U.S. Army Corps of Engineers, Dr. Richard Fulford, Lead Researcher with the Environmental Protection Agency, and other notable speakers.
The conference provides an excellent opportunity to meet and relate with a select group of people who are heavily involved in the continuing economic impact between our local communities, the river, and the associated infrastructure.  Besides professional presentations, we've built in substantial opportunities for networking, ideas interchange, and discussion.
You do not want to miss this conference!  I look forward to seeing you in West Monroe.
Sincerely,
Randy Denmon, President
Ouachita River Valley Association