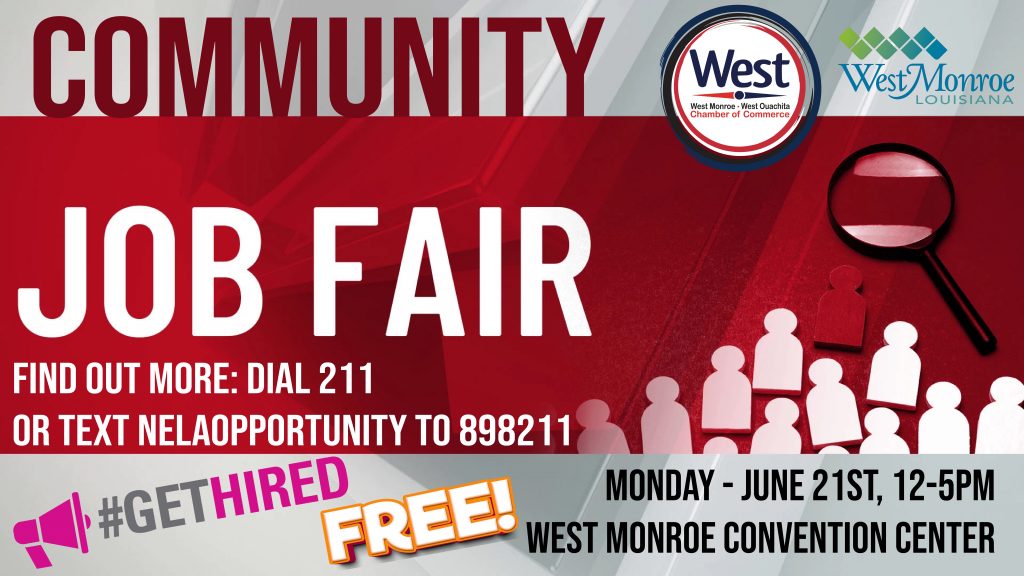 For job seekers over 55 companies are hiring for 1000+ job opportunities:
Are you unemployed or searching for a career change? The WMWO Chamber invites you to a community hiring fair!
What: Community Hiring Fair at the West Monroe Convention Center
When: June 21st Open to the public from 12noon- 5pm
Cost: Absolutely Free - Door Prize Drawings Hourly
The WMWO Chamber and the City of West Monroe invite you to attend this free community hiring fair. Dozens of local businesses will be on site and in person at this free hiring fair. This is your chance to get hired on the spot, learn more about career opportunities, attend an information session on educational opportunities, apply online for other jobs in our community, and so much more! Each attendee will be entered to win our hourly door prizes!
Opportunities from:
Advantage Resourcing
Air Service Professionals
Always Best Care Senior Services
ARCO, A Community Resource
Ascend Staffing
Ascent
BancorpSouth
Blake Wheelis Insurance Agency, Inc.
Carl Stanitzky & Associates
Centric FCU
Citizens Progressive Bank
City of West Monroe
Copeland's
Curry's Truck Frame and Body Shop Inc.
Express Employment Professionals
Flying Heart Brewing & Pub
Goodwill Industries
Guest House Nursing and Rehab
Johnny's Pizza
Johnny's Pizza House
JPMorgan Chase & Co.
JPMorgan Chase Bank, N.A.
KTVE/KARD
LA Army National Guard
Legacy Hospice of Monroe
LHRDI
Little and Associates
Louisiana Delta Community College
Louisiana National Bank
Manpower
Neighbors, LLC
Newk's Eatery
North Louisiana Veterans Hospital
NOVA Workforce Institute of Northeast Louisiana
Origin Bank
Ouachita Parish Schools
Ouachita Valley Federal Credit Union
Paramount Heathcare Consultants
People Source Staffing Professionals
People United of LA
Popeyes
Propel America
Securitas Security Services
Southern Hospitality Services, LLC (Home2 Suites and Hampton West Monroe; Hampton Inn and Suites and Comfort Suites-Monroe, LA)
Spherion Staffing
Surge Entertainment Center by Drew Brees
Texas Roadhouse
The Oaks Nursing and Rehabilitation
TRIO - Veterans Upward Bound Program (Louisiana Delta Community College)
Unitech Training Academy
United Way of Northeast Louisiana / United Way NELA 211
Wagner Logistics
Will Source Staffing
Wingstop
WoodmenLife
AND MORE!
Is your business hiring? The WMWO Chamber invites you to a community hiring fair!
EVENT REGISTRATION HAS CLOSED. Contact the Chamber for more details.
This event is completely free for our business community thanks to the City of West Monroe and the West Monroe West Ouachita Chamber. The Hiring Fair will be advertised throughout our community and is open to all businesses that are hiring. The Fair encourages the underemployed, unemployed and those seeking career change opportunities to be able to match, in person, with our many community businesses that are hiring. If your business would like to contribute a door prize to the event, to help in recruiting the general public, we invite you to let us know.
If you have any questions, please feel free to contact Kristopher Kelley, Communications Director WMWO Chamber –email: kkelley@westmonroechamber.org phone: 318-325-1961.